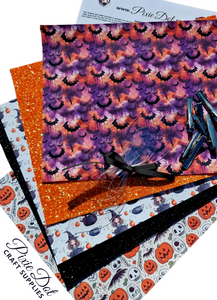 Halloween Pixie Dottie Hairbow Making Starter Kit
Regular price £14.99 Sale
New upgraded  Halloween Hairbow Dottie Bow making kit.
Everything you need (apart from glue) to start making you very own beautiful hair bows.
PLEASE NOTE: FABRIC IN THIS SET WILL VARY AND NOT ALWAYS BE THE FABRIC PICTURED.
This bow kit comes with a set of 3 quality plastic templates to draw round (each comes in 3 parts) 3 sheets of Pixie Dot designed fabric (designs chosen at random and will vary in each different kit), 2 sheets of glitter fabric, 5 clips and a instruction sheet. All fabric sheets are approx 20cm x 28cm.
(finished bow not included in kit)
Bow Sizes approx:
Small: 6.2cm x 3cm
Medium: 8.4cm x 3.8cm
Large: 12.5cm x 5.5cm
The fabric is water resistant.
Although every effort is made to photograph my items accurately and describe my products in detail, I cannot guarantee every computer monitor will accurately depict the actual colour of the merchandise.
Please contact me with any questions about the colour or size of any item before purchasing.
This kit makes an ideal present for any crafter or little girl who loves to make things. To prolong the life of your bows, you may find sealing them with an anti fray or Mod Podge type glue useful. Always use sharp blades when cutting to get the best results.
The design and die for this template is registered with the U.K. Intellectual Property Office and is owned by Donna Griffin, founder of Pixie Dot. We welcome you to purchase our beautiful template and sell the complete bow comprising of the components created using the die. However, you are prohibited from replicating this die or individual elements of this template selling the individual die cut shapes which originate from this die, selling templates from this die or from mimicking the shape and/or design of this die for profitable gain.