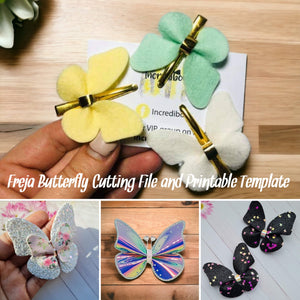 Freja Butterfly cut file - SVG, PDF, Silhouette Studio
Freja Butterfly cut file, contains SVG, PDF and Silhouette Studio file.
Our beautiful and exclusive Freja Shape.   Containss 3 Butterflies and centre strips.
Layer this bow to make a beautiful creation.
Terms and Conditions on using our SVG, PDF, Silhouette Studio files:
We do not allow our customers to resell our files, sell print on demand items using our files - i.e printed bow loops, precuts of our shapes, or use our items to sell templates. We do allow the user to make and sell finished items using our files, so a finished glued together bow etc. These files are owned by the founder of Pixie Dot, Donna Griffin, who owns the copyright on the files.
You must not share these files, the intended use is only for the named purchaser. 
The design is registered with the U.K. Intellectual Property Office and is owned by Donna Griffin, founder of Pixie Dot. We welcome you to purchase our beautiful template and sell the complete bow comprising of the components created using the die. However, you are prohibited from replicating this file, or individual elements of this file, selling the individual pre cut shapes which originate from this file, selling templates from this shpe or from mimicking the shape and/or design for profitable gain.
No physical product will be sent. Keep and eye on your emails for your files.
Demos beautifully put together by Vicky, Nicole and Karen.