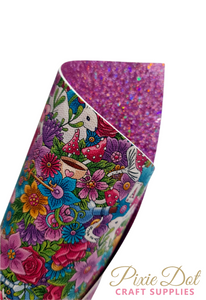 Double sided Wonderland printed fabric
Inspired by the book Alice in Wonderland. 
Double sided. One side printed canvas, the other a stunning holographic pink fine glitter.
This stunning fabric is bright and colourful. It features Rabbit, playing cards, flowers, magic key and more.
This printed fabric is water resistant and is sturdy enough to not require any backing. These designs are handmade and look amazing both on their own and also teamed up with fabric glitter (also available in our store).
These designs are very popular for a half glitter half fabric bow. Please contact us should you require assistance with fabric matching. Please note: As this is a handmade product, the designs do have a border around the edges.
Please choose the designs and quantity you require in the options below. Please also note that, although every effort is made to photograph my items accurately and describe my products in detail, I cannot guarantee every computer monitor will accurately depict the actual colour of the merchandise. Please contact us with any questions about the colour or size of any item before purchasing.
To prolong the life of your bows, you may find sealing them with an anti fray or Mod Podge type glue useful. Always use sharp blades when cutting to get the best results.