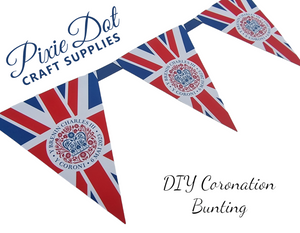 Coronation DIY Bunting
This is our brand new DIY coronation Bunting fabric
 The bunting is printed on the same fabric we use for our printed bow sheets.   This is a thick, water resistant poly fabric which holds up really well.
To make your bunting even prettier, why not back it with our double sided adhesive sheets and glitter fabric.
The bunting flags come in sheets for you to cut, with 4 flags per sheet.  Each individually measure approx 14cm x 10.5cm made up.
 We used a hot glue gun with good quality glue to attach the flags to the ribbon (make sure your glue gun is heated up properly before using) - no need to sew! We also used a good quality hole punch which made it super easy.  
Want something different? Check out our custom bunting designs.  
Please also note that, although every effort is made to photograph my items accurately and describe my products in detail, I cannot guarantee every computer monitor will accurately depict the actual colour of the merchandise. Please contact us with any questions about the colour or size of any item before purchasing.

To prolong the life of your fabric, you may find sealing them with an anti fray or Mod Podge type glue useful. We also recommend if the bunting is going to be outside for a long period of time, to protect with a UV protection spray.  Much like most fabrics, long exposure of UV rays can fade the colours.  Always use sharp blades when cutting to get the best results.
Any questions, please don't hesitate to contact us via our contact page.