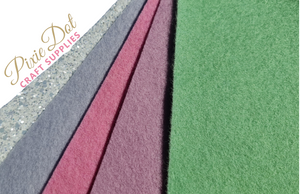 A5 5 piece 100% wool felt bundle
Check out this absolutely stunning limited supply 100% wool felt pastel bundle
You will receive:
4 x 100% felt and 1 x frosted white chunky glitter
Sizes approx 20cm x 14.5 cm
This is our 1mm 100% Wool Felt.
The Wool Felt is of extremely high quality and is made of Pure New Merino Wool. This Wool Felt is a sustainable material that can be used in many ways.
The wool is washed, carded, felted and dyed in different factories around Western Europe. This Wool Felt meets European Standards for Toy Making - UNE-EN 71-2, UNE-EN 71-3 and Öko-Tex 100
Please also note that, although every effort is made to photograph my items accurately and describe my products in detail, I cannot guarantee every computer monitor will accurately depict the actual colour of the merchandise. Please contact me with any questions about the colour or size of any item before purchasing.